Matrimony = weddings = money, according to URBAN OUTFITTERS apparently, who this week announced their intent to create a brand aimed at weddings.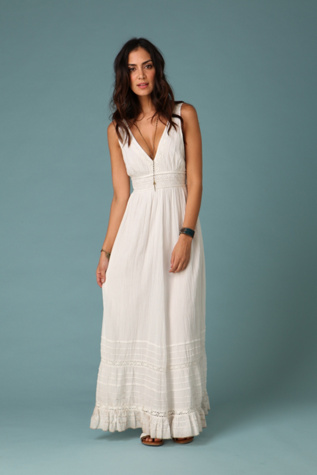 Who's next, Old Navy?
The clothing chain (U.O., not O.N.) plans to feature heirloom gowns, lingerie, decor and accessories for the to-be-wed set, and they expect to launch the new brand in time for Valentine's Day 2011.
The dress above is from
FREE PEOPLE.COM
. Click here to see Urban Outfitters' blog post of a
WEDDING DRESS CAKE
.
The company, which includes TERRAIN, freepeople.com and the higher-end ANTHROPOLOGIE stores, exceeded expectations in the retail sales world last year, and they seem to be doing it again this year. For more information, please see these articles from the
PHILADELPHIA INQUIRER
,
NEW YORK
Magazine and
STYLELIST.COM
.